No matter where you live or what your skill level is, freshwater fish are available to just about anyone. Freshwater fish can be caught from a boat or from a bank, and many of them make excellent eating.

Some freshwater fish, like bass and bluegill, are plentiful and can be found in many regions throughout the United States. Others, like cutthroat trout and sturgeon, are limited to certain areas.

Different species pose different challenges, which is one of the things that makes freshwater fishing so much fun. Learning to catch one of the more popular species means that traveling to new areas and catching fish will be easier.
Bass is a very popular and widespread freshwater fish, while bream are easy to catch and can be found in most fresh waters. Catfish, crappie, and trout are known for being excellent table fare. If you are looking for fish that taste good but also put up a good fight, pike and salmon are both good choices. Muskie is a challenging fish that grows to huge sizes, and often attracts skilled anglers who fish nothing else. If you are not concerned with taste but enjoy the thrill of the hunt, carp are game fish that grow big and fight hard.
Because fresh water is almost always nearby, freshwater fishing is a hobby that is accessible to just about anyone. It doesn't take any special equipment to catch freshwater fish, and there are a large variety of fish to choose from.
All states in the United States require fishing licenses for freshwater fishing. There are number limits on most species, and many have size limits. Visit Take Me Fishing to find information about freshwater fishing licenses in each state of the USA.
---
Copyright © Zeducorp.
All rights reserved.

Freshwater Fishing Reels
Related Images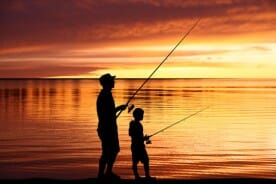 Fishing At Sunset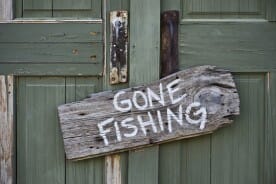 Gone Fishing Sign On An Old Green Door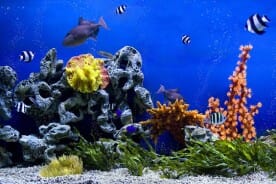 Aquarium With Tropical Fish